Get the most out of your foothills escape
Dance night featuring female artists across the decades!
Join us at 9pm to dance the night away with DJ Lamorte. No cover. 18+.
Not to be missed, Drag Brunch at the Nash hits all the right notes.
Limited seating in Lola Dining. Tickets: $25.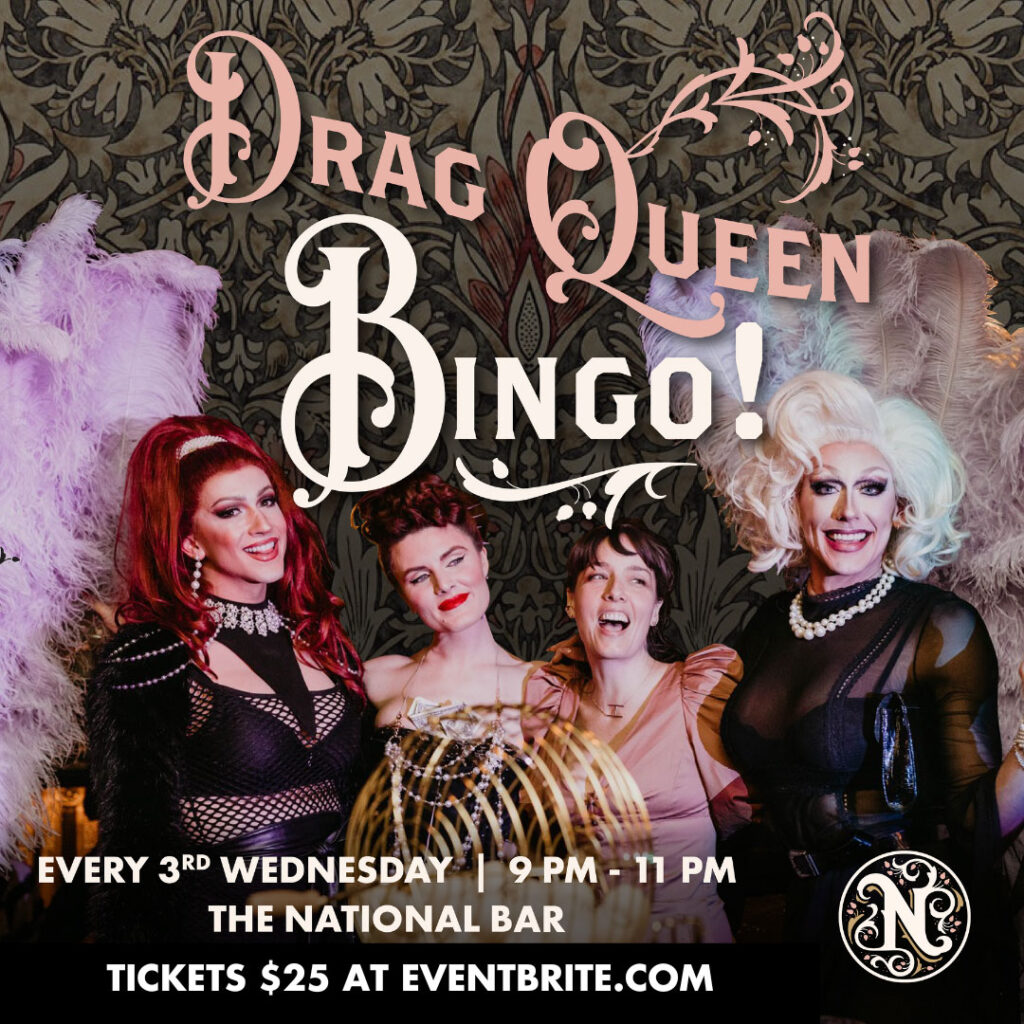 Come join Nevada City's premiere bingo night at the Historic National Exchange Hotel.
Hosted by the most famous drag queens, south-east of the Yuba River. 3 rounds, 3 illustrious prizes. Reserve your ticket today for your chance to win big!
Space is limited and may sell out quickly. Limited tickets at the door are available and subject to change without notice. Participants are encouraged to reserve dinner before 8pm in Lola for full dinner menu.
9-11pm
7-10pm At the National Bar
Join us every Friday for an eclectic musical mix from the Grammy Award winning musician.
5-8 pm At the National Bar
Sing and play along to Celtic favorites with local and traveling musicians!
MARCH 2023
3/15 Drag Bingo
3/22 Femme Fatale Dance Party
3/29 Queens of the Mines
April 2023
4/5 Prince Dance Party "Let's Work"
4/12 Iona Swift
4/19 Drag Bingo
4/26 Old Nash Night Karaoke
OCTOBER EVENTS:
Wild West Wednesdays get Wicked!
During the month of October, the mid-week happenings in the National Bar get a little wicked!
"Leather and Lace"
October 5
A Stevie Nicks dance party!
Drag Queen Bingo
October 19
Drag Queens Tye and Cloaca embrace their dark side at Drag Queen Bingo
A Phantom of the Opera Dining Experience
October 26
The evening begins with a 4-course dinner with a screening of the 1920's Phantom of the
Opera with live musical accompaniment upstairs in the beautiful Empire Room. Dinner
followed by a Phantom themed dance party in The National Bar.
"During the day, I don't believe in ghosts. At night, I'm a little more open-minded."